Conduct Team Fun Shoots and Picnic
Nothing brings a team together more than FUN! Teams should find fun and creative ways to get the team together for more than just competitive shoots.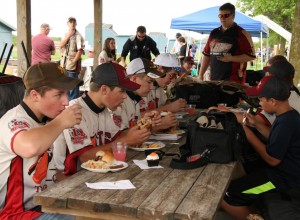 Fun shoots should include food, fun, and games!
Here are a few ideas to include in your fun shoot:

Invite parents, teachers, school officials, and sponsors to shoot
Coaches shoot
Play games

Annie Oakley
Last man standing
Sporting clays, Trap, Doubles Trap, Skeet, and/or 5-Stand
Prizes such as team apparel, range gift cards, and ammunition are great things to give away.
Not all events have to involve shooting activities. Scheduling a team picnic is a great way to garner team camaraderie.
The team picnic should include all athletes, parents and coaches.
The picnic should be held at your local gun club if possible. Games like bean bags, ladder golf and horseshoes are great for having fun and keeping the competitive spirit going.
The team picnic can also be a place to award letter's, highlight achievements, and celebrate the season.
Take pictures and keep it light-hearted.